Arctic Outbreak to Invade the Texas and Oklahoma Panhandles
Brace yourselves – the Texas and Oklahoma Panhandles will get a harsh taste of winter Tuesday!  While most likely you have heard this news over the past several days, you may be wondering what is the cause of this arctic outbreak in November.  Surprisingly it starts thousands of miles away where former Super Typhoon Nuri whipped up hurricane-force winds in parts of Alaska's Aleutian Islands as well as giant waves in the Bering Sea yesterday.  This system will undergo "bombogenesis" (where the central pressure will drop more than 24 millibars in 24 hours) as it joins up with the jet stream while moving across the Bering Sea.  Meanwhile, an upper ridge over Alaska will slow the progression of this system initially while causing the jet stream to buckle. This will start the process of ushering in this arctic air into the area.
The upper air pattern depicting the effect Nuri will have on the jet stream over the country by Tuesday evening.  A polar front is forecast to push across the Texas and Oklahoma Panhandles Tuesday evening.
The upper ridge will continue to amplify sending a warmer than average air mass north into the polar regions. This warmer air will actually dislodge the arctic air sending it into Northern Plains. This cold air will spread south where it will move into Texas by Tuesday. Temperatures will plummet to some 20 to 30 degrees below normal!  Even as cold as it will get, it appears record low temperatures across the area should stay safe.  An Omega block (named after the shape of the Greek letter Omega) is forecast to develop along the west coast. This block will prevent the upper air pattern from changing so a prolonged period of this icy early season cold snap is expected through the end of the week.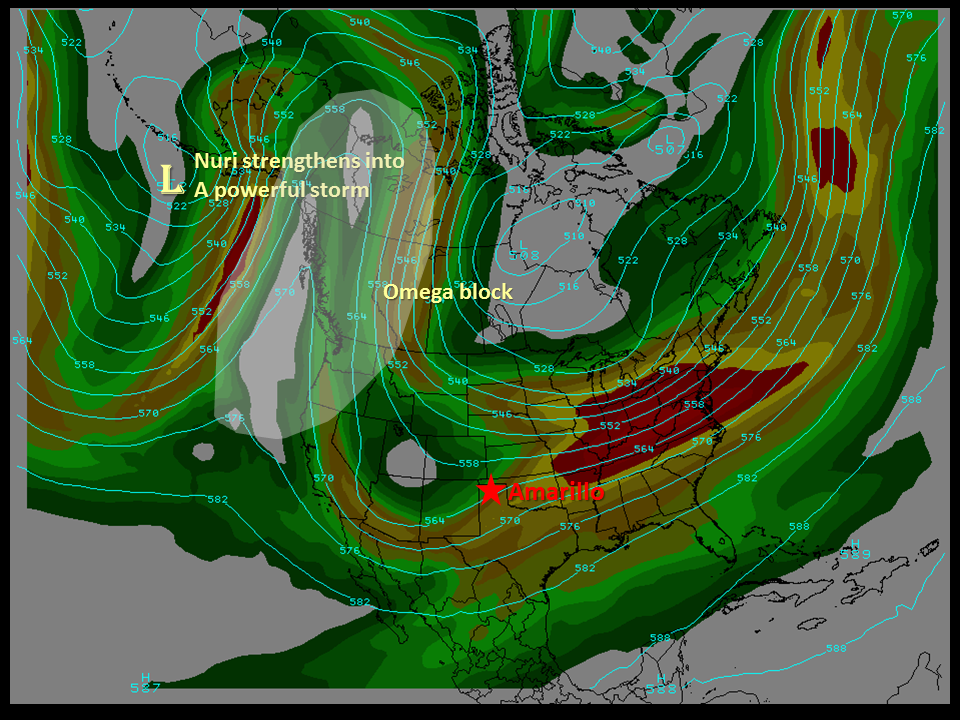 The upper air pattern by Wednesday.  Note the Omega block along the west coast.  This feature will result in little change in the upper air pattern through much of the week, keeping the Texas and Oklahoma in this icy cold snap. 
Low temperatures Wednesday morning.  The purples represent temperatures in the single digits or lower while the blues indicate temperatures in the teens to the lower 20s.
Some modification in temperatures are possible by early next weekend but so is another shot of cold air along with a chance of light snow.  It's far too early to say which scenario will pan out so stay tuned for the lastest updates!
Source: https://www.weather.gov/ama/novcold